Thank you from the bottom of our hearts for your generous support. You enabled us to survive one incredible year and to thrive far beyond our many dreams!
" A child without education is like a bird without wings"
Tibetan Proverb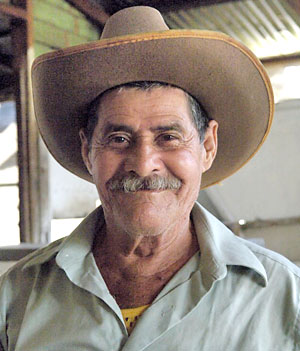 It is with a very large hole in my heart that I write that over Christmas our beloved Abuelo, a Flor Azul angel to so many of us, joined the host of Heavenly angels. Don Beto, we are eternally grateful for all you did for us and we will carry you forever in our hearts.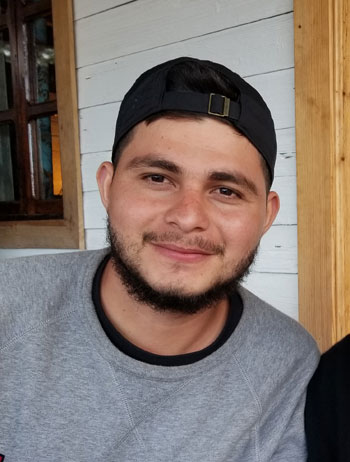 STUDENT SPOTLIGHT
YELSON PLATA
What is your favorite quotation?
"Personal discipline is like the foundation. Nobody sees it, but it is the most important thing in a construction" Jesús Adrián Romero
Tell us about your experience in CASA NOBLE
Casa Noble has become my home because it is where I have grown older. We are a beautiful and rare family in this house filled with boys from different region from Honduras. It is wonderful to know the many different life stories. They inspire us to work hard every single day. Also, this house is in the hands of two people who have become our parents. They remind me every day of the power to help other.
Casa Noble is the place where I started without anything and now I have so many opportunities because of the many tools I have learned here. So, this is a perfect place where boys like me can make their dreams come true. Here I have learned how to be humble, grateful, conscious, respectful, responsible, leader and creative
What is your favorite hobby?
My favorite hobby is being a barber for the boys in the house. I really enjoy doing this because I can talk with everyone during the 30 minutes I spend per each haircut with each boy. This is a perfect time to be a psychologist.
What is your typical day?
My typical day starts with making my own cup of coffee and then taking my breakfast to check the online university platform. After that I am ready to take my classes and do my homework. Lunch at noon. In the afternoon I like to go playing soccer or go for a run. Also, I enjoy drinking a cup of coffee with the beautiful view to the Capital Tegucigalpa in the company of the sunset. In the evening I like to read a little, watch some interesting video on YouTube or listen to podcast about different topics in English and then I ready to go to the bed.
What have you learned about yourself this past year 2020?
This last year taught me that we need God every single day and also the importance of being healthy. Also, the importance of being in solidarity with those who need a hand in challenging times.
What is your goal for the near future 2021 and 2022?
My goal this 2021 is obtain my Degree in Business Administration. I´ll graduate in June. Then I want to focus on improving my English to be ready to study my Master´s in Project Management abroad. My biggest dream is to obtain my masters in the USA. I really want to study abroad to have greater and more interesting opportunities.
What does H4HC mean to you and your family?
Hope for Honduran Children is everything to me because without the support during the past 9 years I would not be where I am now. H4HC also represents the many people with amazing hearts who have dedicated themselves and contributed a grain of sand so that people like me have hope. For my family Hope for Honduran Children is the light that they were needing when they couldn't help me.
What or who inspires you, and why?
Karen Donovan Godt and John Godt because they have dedicated their life to inspiring people in their country with the only objective of giving hope and transforming young people in my country Honduras. My family is also the engine that drives me every day to do things well and make the best decisions.
THE LEARNING CLUB:
Our Innovative educational program for rural schools
In 2020 we were contacted by a technology company that developed a hand held tablet with which H4HC is adopting an enhanced system of education. We purchased the tablets for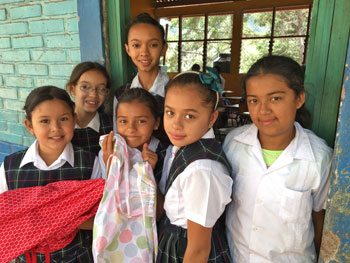 100 students with the hope of securing funding to provide this same opportunity for an additional 1000 students at $35 per tablet.
There is no internet access in the rural villages and this newly developed mechanism is not dependent on the internet. The schools provide H4HC the required curriculum. H4HC researches, creates and downloads videos (in Spanish) that coordinate with the student's class work in math, Spanish , science and English. The teachers download the classwork on each students tablet and no longer are the students dependent on one, often under skilled, teacher overseeing six classes simultaneously in one or two rooms.

Students are able use their tablets to learn and review classwork at any time and reuse the tablet with new downloads the following year. We are confident that this will be a game-changer for the education of all children in rural Honduras.
Click below to donate to the "Learning Club Fund" which will provide a child a good education - the fundamental key to opportunity and a successful future. Every $35 will purchase an additional handheld tablet.

EDUCATION
51% of Honduran children receive no education after sixth grade.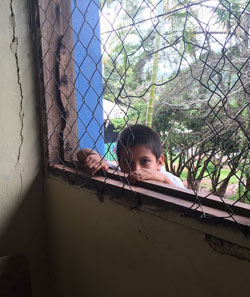 The United Nations reports that Honduras has the worst educational system in Central America. Extreme poverty and lack of education are very pressing problems that are prevalent for 75% of the population living in the mountain villages. The government provides free education only through sixth grade, and the schools are substandard in every respect with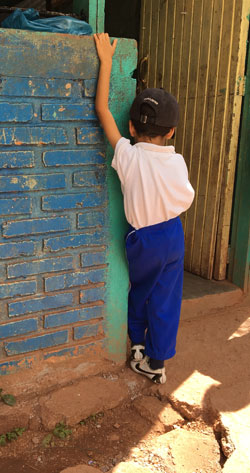 few schoolhouses, a lack of books, supplies, and curriculum. Many teachers are unqualified with nothing more than a high school education and most villages have a one room school with one teacher for all 6 grades.
In the rural communities almost all adults are unemployed and 2 in 10 are illiterate. For a variety of reasons 51% of the children are unable to complete 6th grade:
39% of the children must work in the fields or sell eggs, tortillas, melons etc to help the family survive
The closest school is more than a two hour walk
the family has no money to cover supplies, uniforms, fees, transportation, etc.
Without the benefit of a good education, the population we serve has no possible escape from their cycle of deplorable poverty. The students in our two (filled to capacity) residential homes are thriving. We believe in a Tibetan Proverb and know that we MUST do more."A child without education is like a bird without wings"