This has been a most successful year...
Our plan was simple… to be the light that illuminates a better journey for the countless forgotten people of Honduras – to protect, inspire, nurture, educate, and challenge them along the road to a sustainable future. As a special thanks again and ten thousand times again to all our donors for making another extraordinary year for so many children! There is no child or teen in our programs who isn't profoundly grateful for your support!
Casa Noble Highlights
Three wonderful new residents in Casa Noble – Osman, Jose, and Fabricio Sauceda
Pedro Lopez graduated from Catacamas University and is employed by the International Federation for Agricultural Development (FIDA)
Darwin Rios is to be married in August to Christina Corbitt in Salt Lake City where they will reside. Many volunteers will attend the wedding celebrations!
Training Center Highlights
The Noreen Macbean Sewing Center has doubled in size with more space, many more students and lots of business!!!
The H4HC Computer Technology Lab is thriving thanks to a Rotary International grant proposed by the Shaker Heights of Ohio Rotary
The Casa Noble youth are demonstrating a greater proficiency in English, thanks to their superb teacher, Luis Aguilar!
The science lab at the Santa Lucia high school has a wonderful new micro-scope…thank you Mary Rayborn & Joseph Hollyfield
The Casa Noble library is growing at a fast and steady pace.
A Casa Noble team is hard at work in the Noreen Macbean sewing center during their free time. They are making beautiful pouches to sell as small purses, cosmetic bags, etc.
Feed A Village Highlights
We delivered over 1000 beautiful new sundresses made especially for every little princess in our villages and at least 200 shorts for boys!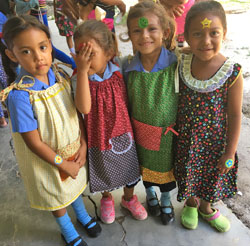 Thank you to Michelle Berkes's Dresses for Girls and Judy Pramik's sewing circle! We also delivered 1250 new school uniforms to the villages of Naguara, Suyatillo, San Juan del Rancho and Flor Azul..Thanks to Pauline Pakovalchin Continued delivery of food, vitamins, shoes, clothing, scholarships and educational support to five rural villages.
Education Highlights
Supported 750 students at Santa Lucia High school with high speed internet and English classes.
Provided Casa Noble residents with high school, university scholarships and classes in Entrepreneurship, English and Sewing
Provided scholarships for 24 students in Naguara
Scholarship for one rural village girl to attend the university
Scholarship for one girl to attend a bi-lingual school in Tegucigalpa
Provided braille paper and classes for the students at CAIPAC (Center for the Blind)
Humanitarian Trips
Organized & escorted 3 humanitarian service trips with a strong focus on education, character development & entrepreneurship
Donor Support
With so many attending the university and the swell of rural children needing educational support, our expenses keep escalating. Special kudos to Mimi Hsu and Thomas Elrod for keeping us believing in wonderful miracles, the Strongsville (Ohio) Rotary for donating funds from their Chili Open, Dave Clifford for raising funds for computers, sponsorship and a multitude of Casa Noble needs, Claire McGilley for becoming the best intern in the history of H4HC, Lisa, Tess, and Spencer for bringing new shoes for every student ay San Juan del Rancho School, Jim Martin's class at the Boler School of Business (JCU) for their determination and success in raising $6000 in support of Casa Noble, and to all the sponsors of our children! Our donors seem to understand the power of their generosity and we are forever grateful.