"Problems can become opportunities when the right people come together."Robert Redford
June Trip
Ten joy filled days are best captured in this video production courtesy of Karen Corbitt


We were blessed to have an incredible team of 18 volunteers join us for ten days in June. One very special pediatrician, Dr. Erickson, his wife and four adult children
spent much of their time providing medical check-ups and care for our many school children. They were assisted by Kevin Zazo and 4-5 of his colleagues from nursing school. Lisa Mitton presented our new Days For Girls program, while others in her family taught
math and crafts with Anne Allen. Everyone was thrilled by the field day activities provided by Karen Corbitt and her three adult children – face painting, parachute games, rocket launching, and playing "pipes" while learning native American Indian songs. We also spent a fun morning with the residents of CAIPAC (The Center for the Blind) with whom we made many beaded bracelets. After a week of dedicated and meaningful efforts we flew by charter to Copan and enjoyed the Mayan ruins and three days of leisure!
Days For Girls
This awesome program was introduced in each of our villages by Lisa Mitton, an extraordinary volunteer. The goal is to restore days of education and opportunity to " Every Girl. Everywhere. Period."
Days for Girls (Honduras) Project & Report by Lisa Mitton—June, 2017
I presented the Days For Girls program in two rural community schools - Naguara and San Juan de Rancho.The first class was in the mountains at the very impoverished San Juan de Rancho school.

I was so nervous to teach my first class not because of the content, but because it was in Spanish. The girls, however, were very uncomfortable with the topic. Karen helped translate for me. This made the delivery more comfortable as Karen was able to make jokes and lighten the atmosphere. My favorite took place when we were describing the changes that take place during puberty. I said in English, "You may begin to develop romantic feelings for the boys." Karen translated, "You start becoming interested in those ugly smelly boys." In spite of Karen and I laughing and joking around with the girls, they never really opened up.


It was obvious that The Days for Girls kits were very much appreciated. After class most of the 45 girls thanked us with hugs. The teacher promised me that she would follow up with the girls on the care and use of their kits. These girls live in unimaginable poverty - many walk 2 hours each direction to go to school. Seven girls don't have running water in their homes and most have no access to electricity. My friends, thank you for making these kits! I feel so lucky to be a part of their delivery. I wish each one of you could have the same opportunity to see in person how it blesses lives.


Reina and Elsy are the two amazing women starting the micro-enterprise in Honduras. I have every confidence in them to take this opportunity and make a successful business. They are both excellent seamstresses, intelligent, and seem to have good business sense. I look forward to watching their progress.

Thank you again, for helping change lives!
"At times, our own light goes out and is rekindled by a spark from another person. Each of us has cause to think with deep gratitude of those who have lighted the flame within us." Albert Schweitzer
On July 5th we were joined by an outstanding team of 15 volunteers. It was primarily a
weeklong medical brigade in tandem with classroom and field day activities. With the help of Doctors Kristina and Carlos Leyden and three exceptional nursing students from St.Thomas University in Houston
we spent seven incredible days delivering medical care to our remote mountain villages. It was truly touching to see the tiny Church in Naguara converted into a medical clinic with everyone in the village lined up in their very best clothes. While half of our team were medical professionals doing amazing work, the other half spent
each morning teaching classes and providing field day activities for the very excited and grateful school children. One of our volunteers brought such joy to the children of San Juan de Rancho by bringing beautiful new shoes for fifty children – it was truly thrilling to watch their faces. We hope to repeat a small medical mission in June of 2018…perhaps two physicians, two dentists and 3-4 nurses!
Darwin Alexander Rios Valeriano. Everyone knows Darwin – one of the most successful residents of Casa Noble…
hard working, responsible, and always NOBLE. Darwin was studying languages at the University in order to become a teacher. It was definitely NOT his passion and in January after lengthy discussions with volunteer, Erica Fornari, he switched to computer science. In June the Corbitt family from Bellevue, Washington took him under their "techno wings" and managed to provide Darwin with a scholarship to study in Utah.
Congratulations to Yelson Plata, Jari Murillo and Jarvin Aguilar who are about to graduate (with academic honors) from the Santa Lucia high school. All three young men are currently taking their college entrance exams!
2018 Humanitarian Service Trips
We are forming service teams for 2018 and already have many reservations for: January 31, March 2, and June 9.
If you would like to reserve another date for your school, college, civic group, church or family, please advise us ASAP! The service teams spots are filling up quickly. If you would like to join, call us at 216-403-1051 or email us at kgodt@h4hc.org
Thank you for your generous and continued support of Hope for Honduran Children
A pencil is a small thing but in the developing world it can be a child's ticket out of poverty— the difference between getting an education and getting sent home. Hope for Honduran Children (H4HC) was founded in 2005. It all began when we were introduced to 24 abandoned children who were shoeless and had not eaten in four days. "Life would be perfect', they said, 'if you could help us find food, shoes and a few (11) pencils." We continue to be desperately in need and hope that you will encourage your class or school to join the Hope for Honduran Children's "Sister School Program" this fall.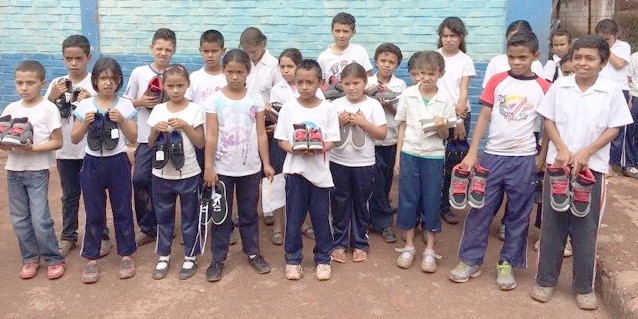 We have five rural Honduran villages that we are helping with water, healthcare, food and education…this translates to well over 1000 children.
We have just returned after delivering new shoes, backpacks (many of these youngsters walk 2-1/2 hours to attend school) and supplies. During our visit we learned that in the five villages the poverty is so extreme that no one can afford soap, a toothbrush or toothpaste.  Just think of the enormous impact you and your students could make on the lives of these ultra poor forgotten children. Please, don't allow them to be ignored or forgotten any longer.  Contact Hope for Honduran Children for more information on how simple and rewarding it is to brighten the lives of these children.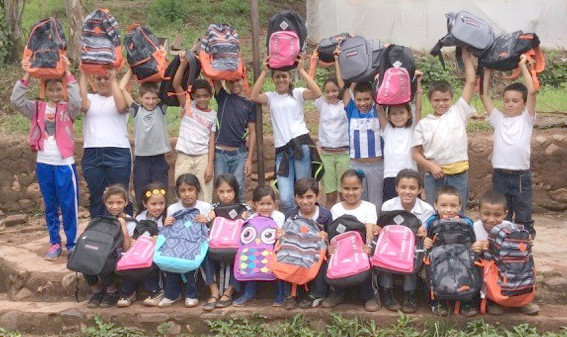 Thank you to the 4th Grade Class of Arrowhead School in Copley, Ohio. They donated the backpacks which were filled with soap, toothbrushes, toothpaste, and school supplies.

How can students help? Primary school children in North America will often coordinate supply drives collecting pencils, pens, erasers, chalk, paper, flash cards, stickers, and crayons, for their "sister school". Some might assemble "gift totes" using grocery store recyclable bags and filling them for each child in a school with a personal letter, photos, tooth brushes and paste, pasta, oatmeal, vitamins, school supplies, coloring books, etc. High School students often host concerts and other fundraisers. They have helped their "sister schools" by becoming a child sponsor, raising funds to provide desks for empty classrooms,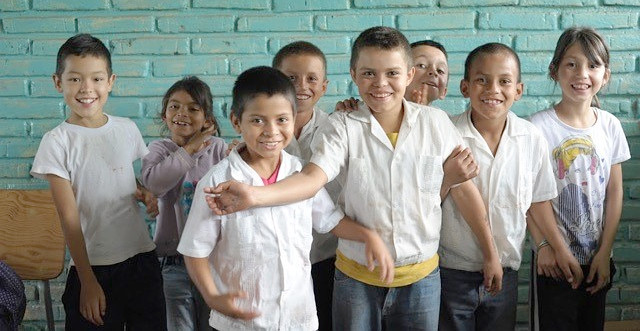 purchasing laptops, a copy machine, etc. providing internet access, refurbishing classrooms and creating a basic science lab. What starts with a simple supply drive becomes a lesson about the true meaning of giving. When American students hear our presentations and see photos of bright smiles on the faces of children who receive their gifts, their eyes open to an entirely new world they've never seen before. They begin to understand the important role they can play in making life better for others. They learn that "To the world you might be one person, but to one person, you just might be the world."
3460 This is the number of Honduran children whose lives have been transformed over the past twelve years through your generosity and the work of the Hope for Honduran Children Foundation. Working together, we protect, inspire, nurture, educate, train and challenge vulnerable youth reach their full potential. Please help us continue to transform lives by contributing to our 2017-2018 Appeal. Last year with the help of 46 donors we reached our goal of $26,000. Please help us reach our goal of $36,000.
Click here to donate: