"Problems can become opportunities when the right people come together."Robert Redford
Highlights of the Year to Date

We began the year with a most exciting announcement.
Carlos Aguilar (Churri) is the new Director of Casa Noble.

It was a very pleasant and exciting transition for all of us. This is the first of several transitions in 2018.
Stay tuned for more!
On January 31 a cohesive team of 21 volunteers arrived in Tegucigalpa to laugh and work nonstop for seven days. It was a very dedicated team, highly motivated, extremely hard working and full of joy and laughter. The boys of Casa Noble were thrilled to learn new things as well as begin the new year with both former and new friends. With the help of one volunteer, the boys enthusiastically focused on establishing the core values of the Casa Noble Home. Afternoons were spent discussing plans, making jewelry and gloves to sell, making new friends at CAIPAC (the blind center), hiking down the mountain, and of course, doing puzzles, visiting the coffee farm and the beautiful tea house!
Each morning we visited the isolated rural schools such as Naguara, Suyatillo, Flor Azul, Campo, and San Juan del Rancho.
At each school we were met with countless hugs and abundant gratitude. Activities included: math games, reading, physics, and field day games of face painting, bubble blowing, the parachute, spoon races, etc.
Many on the team returned home on the 7th while others continued their journey visiting Copan Ruinas. We spent three days visiting the Mayan ruins, exploring every nook and cranny of the picturesque town and dining at Hacienda San Lucas. It was very special.
Casa Noble Profiles

Cristhian Valle
The son of Reyna (our formidable teacher in the sewing center) Cristhian is best described as intelligent, motivated, responsible, well-mannered and friendly. He is in his first year at the University in Tegucigalpa and it is no surprise that he brings high level skills to the sewing center. We feel very fortunate to welcome Cristhian as a Casa Noble brother.
Noe Lopez Lopez
Oh my! First there was German, then Ricardo, followed by Pedro, then Oscar Rene, Joel, William and the last of the Lopez family has finally joined us and he is a wonderful addition to the home. Noe is attending the high school in Santa Lucia and like all the others he is 110% focused on building a brilliant future for himself and his family.
Santos Murrillo
The brother of our respected Jari, Santos comes from Naguara and arrived at Casa Noble in early January. It took but half a second to realize that he might be the kindest young man of the home. Santos is eager to follow in his brother's footsteps to learn new things, to achieve success, to please, and to help out in the home.
2019 Humanitarian Service Experience
There is no better classroom than the greater world itself and there are no more impactful lessons than immersion into this eye-opening, loving and vibrant culture.
Each of our service trips is solidly based on the principles of service, education, cultural exchange, and reflection. They are designed to provide unique cultural awareness for the volunteers and sustainability for the communities we serve. Immersive volunteer trips where participants interact and engage with people living in impoverished rural communities are unparalleled experiences. We provide food, water, clothing, shelter, education and protection for abused, neglected and forgotten children. Each trip offers a myriad of opportunities:
To engage in meaningful interaction with children & local villagers
To immerse yourself in a diverse and meaningful cultural experience
To enhance your global awareness
To bring much needed supplies to isolated villages
To change the world of a child in desperate need
To establish meaningful life-long relationships with teenagers
To experience personal, cultural, and spiritual growth
Due to the overwhelming popularity of the H4HC service trips, space is limited making pre trip registration required.
February 4th to 11th
Registration deadline October 1, 2018 with non-refundable $100 deposit
March 3rd to 10th Spring Break!
Registration deadline December 1, 2018 with non-refundable $100 deposit
June 10th to 17th
Registration deadline March 1, 2019 with non-refundable $100 deposit
Click below to view Ten joy filled days from our June 2017 trip are best captured in this video production courtesy of Karen Corbitt


A pencil is a small thing but in the developing world it can be a child's ticket out of poverty— the difference between getting an education and getting sent home. Hope for Honduran Children (H4HC) was founded in 2005. It all began when we were introduced to 24 abandoned children who were shoeless and had not eaten in four days. "Life would be perfect', they said, 'if you could help us find food, shoes and a few (11) pencils." We continue to be desperately in need and hope that you will encourage your class or school to join the Hope for Honduran Children's "Sister School Program" this fall.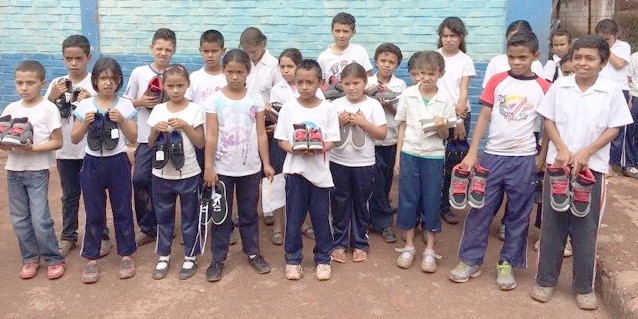 We have five rural Honduran villages that we are helping with water, healthcare, food and education…this translates to well over 1000 children.
We have just returned after delivering new shoes, backpacks (many of these youngsters walk 2-1/2 hours to attend school) and supplies. During our visit we learned that in the five villages the poverty is so extreme that no one can afford soap, a toothbrush or toothpaste.  Just think of the enormous impact you and your students could make on the lives of these ultra poor forgotten children. Please, don't allow them to be ignored or forgotten any longer.  Contact Hope for Honduran Children for more information on how simple and rewarding it is to brighten the lives of these children.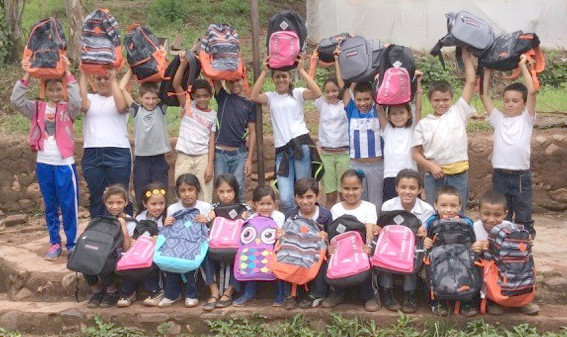 Thank you to the 4th Grade Class of Arrowhead School in Copley, Ohio. They donated the backpacks which were filled with soap, toothbrushes, toothpaste, and school supplies.

How can students help? Primary school children in North America will often coordinate supply drives collecting pencils, pens, erasers, chalk, paper, flash cards, stickers, and crayons, for their "sister school". Some might assemble "gift totes" using grocery store recyclable bags and filling them for each child in a school with a personal letter, photos, tooth brushes and paste, pasta, oatmeal, vitamins, school supplies, coloring books, etc. High School students often host concerts and other fundraisers. They have helped their "sister schools" by becoming a child sponsor, raising funds to provide desks for empty classrooms,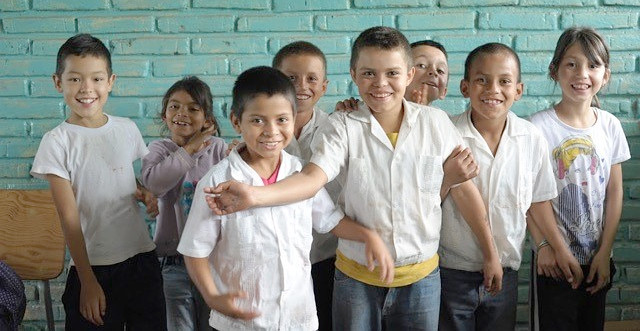 purchasing laptops, a copy machine, etc. providing internet access, refurbishing classrooms and creating a basic science lab. What starts with a simple supply drive becomes a lesson about the true meaning of giving. When American students hear our presentations and see photos of bright smiles on the faces of children who receive their gifts, their eyes open to an entirely new world they've never seen before. They begin to understand the important role they can play in making life better for others. They learn that "To the world you might be one person, but to one person, you just might be the world."