News from Honduras (June 2019)
Special thanks again and ten thousand times again to all our donors for making another extraordinary year for so many children! There is no child or teen in our programs who isn't profoundly grateful to their sponsors. In addition, we are grateful to:

Michelle Burgess and her team for creating over 500 rainbow beautiful sundresses for every little girl in our five villages.
Pauline Pakovalchin for helping us with the donation of 1200 school uniforms!
Judy Pramik and her team for making very lovely and appreciated sundresses!
Mary and Joseph Rayborn for the fantastic microscope that is now front and center in the science lab in Santa Lucia.
The Rotary Club of Tegucigalpa for their generous donation of books for Casa Noble. Now the boys have no excuse for not expanding their English vocabularies!

Suzanne Skees for her amazing book series My Job in which a chapter is dedicated to our one and only Kevin Zazo!!!
Special thanks again and ten thousand times again to all our donors for making another extraordinary year possible for so many children. There is no child or teen in our programs who isn't profoundly grateful to their sponsors.
Casa Noble Update
As we say so often… A child of H4HC means No gangs, No drugs, and No illegal entry to the US… but rather college graduates with good jobs. Every year life seems to get better and better for the Casa Noble family! We are thrilled to welcome Osman, Jose and Fabricio, three new students to the home.

Jose Rodriguez, is brother of graduate, Luis Enrique who is now employed in Tela. Jose is 15 years old and blended into our loving family in about ten minutes. On the team's final night in February he and Fabricio were the first to stand up and express their gratitude to the volunteers. Jose is a focused student, studying tourism and hotel administration. Of course he is an excellent soccer player!
Fabricio Sauceda, brother of Alex, is from our beloved Naguara. He also became an immediate role model in our home. He is an excellent student at the high school and one of the leaders in development of micro enterprises.
Osman Godofredo Lopez Lopez brother of German and Ricardo and cousin to Neri, Pedro, Oscar Rene, Joel, and Noe, has very quickly gained the affection and respect of all the visitors to and residents of Casa Noble. His university studies in accounting will begin in August of this year.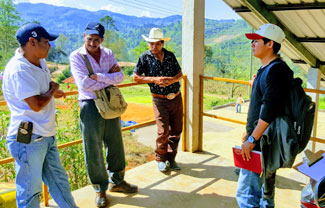 Pedro Lopez recently graduated from the University of Catacamas and is now employed by FIDA, the International Federation for Agricultural Development. It is with enormous pride that I acknowledge that we always had complete confidence that Pedro would be an amazing leader in his field.
Felicidades, Pedro!
Kevin Zazo (Numero Uno) recently transitioned from Casa Noble and will complete his nursing studies while living in his own apartment in Tegucigalpa. It is difficult to believe that he was that frightened little boy who was too shy to smile. Congratulations, Kevin!
Jarvin Aguilar is finally on the mend after breaking his tibia and being confined to bed for several months. Jarvin used the time to learn English, be creative and keep up with his university studies as much as possible.
Jari Murrillo is a first year law student!!!
Elvin Aguilar has been invited to participate in the try outs for the national Real Minas soccer team!
TRAVEL HIGHLIGHTS
The Twenty Star June Humanitarian Trip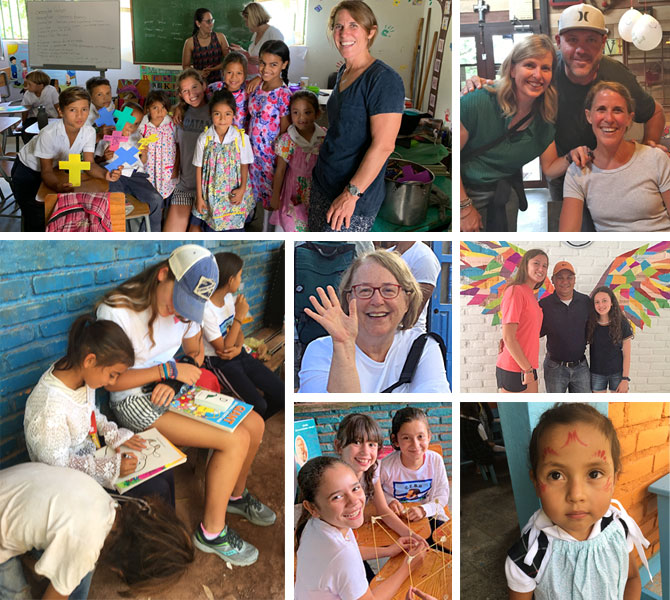 The most amazing, dedicated, cohesive and fun team of 16 volunteers worked to make this the best and most joyful experience in our sixteen year history!
A few of the highlights include; Dresses…dresses…and more dresses…pinatas…Zamorano overnight, meeting the President and touring the campus… fun fun fun….Swimming…Casa Noble Music Fest…Lisa singing in the window…fun fun fun…concert at the Blind Center….Teaching in Naguara, Suyatillo, Flor Azul, San Juan del Rancho and Santa Lucia….super delicious dining at Kolibri…and thank you to Mimi, Thomas, Derek and Frank…Candace, Lisa, Tess and Awesome Spencer, Gwynne and Katie, Dave, Churri, Olman and Baca and all the loving, welcoming and grateful people of Honduras for countless inspirational, life-changing experiences each and every day!
March 2019 John Carroll University Service Trip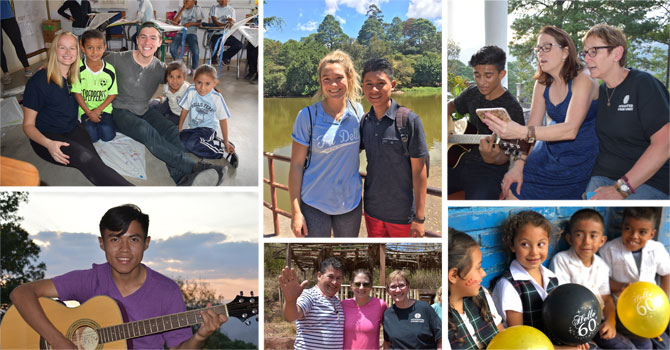 It's amazing how much a team of fifteen can accomplish. The rural classrooms were humming with activity and every time we peaked through the door we saw very engaged and super happy children. We visited six villages and delivered lots of supplies. The best was delivering hundreds of sundresses made by Michelle Burgess's team –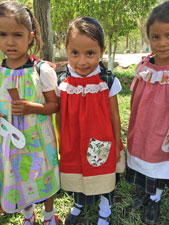 Dresses for Girls and Judy Pramik's sewing group. There really is no way I can describe their joy. For most of these children the dress was the first NEW piece of clothing they had ever received and they were stunned that they were able to "keep them"!
Our Canadian friends, Nancy and "Chanel" aka Cheryl, brought many fantastic donations. Their lessons were so much fun and in addition, they gave lots of clothing and every Casa Noble boy new jeans, shirts, etc. And, what did they give me? Lots and lots and lots of great laughs!
January-February 2019 Humanitarian Trip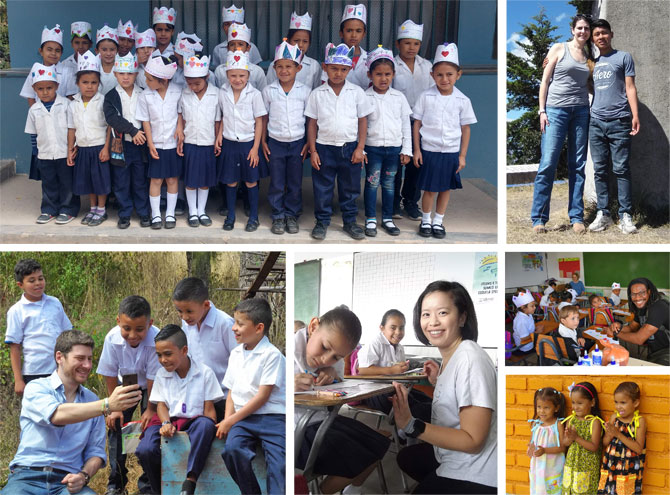 This was a wonderful, amazing, hard-working, joyful experience. Did you hear about Candace? With a broken wrist, broken nose and the most positive attitude, nothing could slow her down!!! We visited Naguara, San Juan del Rancho, Suyatillo, Santa Lucia and Flor Azul bringing much needed supplies – food, high school scholarships, 1250 beautiful new school uniforms, hygiene supplies and much needed school materials. The team engaged the children with amazing activities. At Casa Noble we did a lot of brainstorming with respect to developing a new micro enterprise. The sewing center was busier than ever and I am proud to report that the boys proficiency in English has improved enormously. What a dynamic team – kudos to everyone!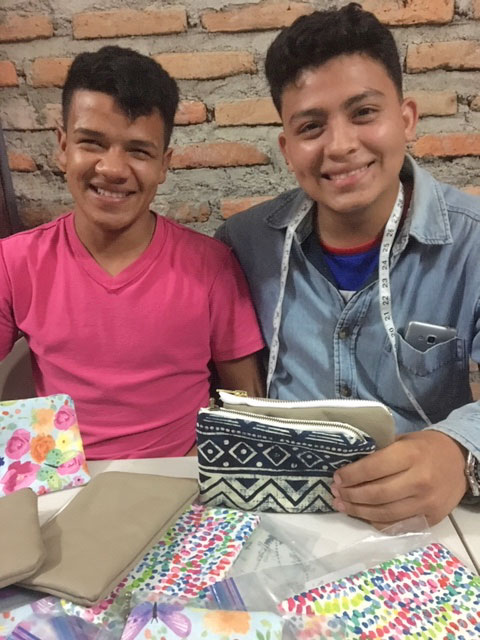 The micro enterprise discussions continued each evening at Casa Noble and the sewing center has never been busier! The boys are busy making and selling beautiful cosmetic bags. The cloth and leather bags are all fully lined. The bright colored plaid bags are made from hand loomed Lenca wool. We returned with twelve and sold them in one day…received a reorder and sold those twelve in a single day. The bags make wonderful gifts and sell for $8 …….And everyone should order at least three!
Make 2019 a most significant year and sponsor a child!!!!!



Click below to view Ten joy filled days from our June 2017 trip are best captured in this video production courtesy of Karen Corbitt